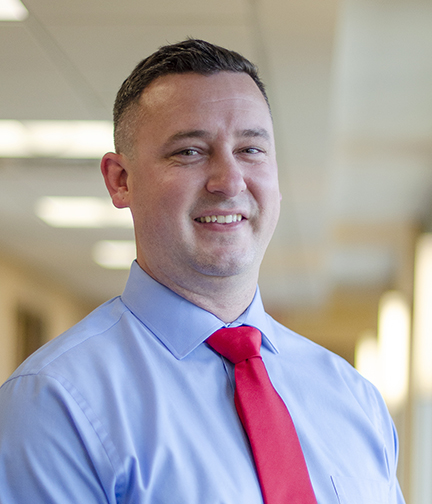 April 5, 2021
Huggins Hospital Welcomes Kyle A. Przekaza, PA-C, to Orthopedic Surgeons of Wolfeboro
Huggins Hospital welcomes Kyle A. Przekaza, PA-C, to Orthopedic Surgeons of Wolfeboro. He joins George Costello, MD, FAAOS, Timothy O'Brien, MPH, PA-C, Michael P. Giovan, MD, FAAOS, and Jeremy Hogan, MD, FAAOS, at the office located in Huggins Hospital's main campus.
Kyle specializes in sports injuries and looks forward to serving the people of the Eastern Lakes Region. He is a member of the American Academy of Physician Assistants, New Hampshire Society of Physician Assistants and Physician Assistants in Orthopaedic Surgery, as well as the Vermont Army National Guard.
After just a short period of time working at Huggins Hospital, Kyle is already settling in.
"It's really laid back and welcoming – a friendly environment," Kyle said. "And it carries over into patient care. People here really care about your wellbeing."
Kyle has lived in New Hampshire for almost a decade and has spent that time treating patients in the Lakes Region area. He is excited to continue caring for his patients as he joins Huggins Hospital and increases his coverage in the Eastern Lakes Region.
When he is not seeing patients, Kyle enjoys spending time with his wife and two daughters. As an avid skier, surfer and golfer, Kyle understands the importance of the active lifestyle many of us enjoy in the Eastern Lakes Region.
Kyle grew up in multiple places as part of a military family and settled in Vermont when his father retired from the Air Force. He earned a Bachelor's of Science in Sports Medicine Health Sciences with a minor in Biology from Norwich University before joining the Army. He then earned his Master's of Physician Assistant Studies from Chatham University and he continues to serve in the Vermont Army National Guard.
For more information about Kyle Przekaza, PA-C, please call Huggins Hospital's Orthopedic Surgeons of Wolfeboro at 603.569.7690.