UNUSED SPACE IN THE OLD HOSPITAL WING
+
RENOVATION
=
STATE-OF-THE-ART INFUSION CENTER
Infusion Center Campaign
CRITICAL HEALTH CARE CLOSE TO HOME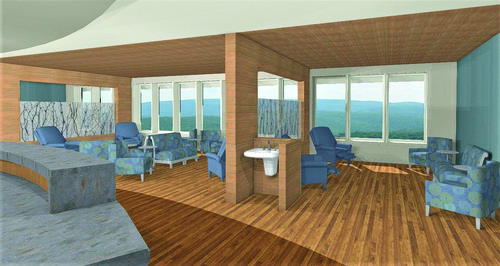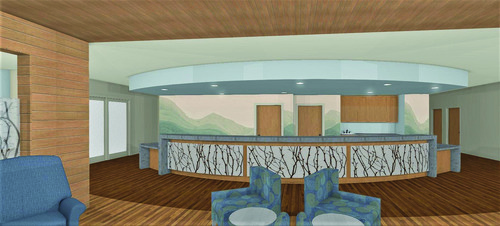 Huggins Hospital constantly strives to meet the challenge of the changing healthcare needs of our community. We are currently renovating existing unused space in the hospital to create a state-of-the-art Infusion Center. This new space will allow medical personnel to provide the highest level of care to infusion patients and their families in a comfortable, modern environment specifically designed for this purpose.
Our long-term goal for our new Infusion Center is to integrate chemotherapy and oncology treatment, which will require an oncologist, in addition to our established medical infusion services. Cancer is the second leading cause of death in NH and those requiring chemotherapy treatment need to travel long distances for those treatments. An Infusion Center and the potential for oncology services close to home will have a major impact on the quality of life for our community members.
We hope you will consider donating to our campaign to create this dedicated space—a gift of any size will help. The future looks bright for Huggins Hospital patients who need infusion services of any kind!
Every Gift Makes a Difference
ALL GIFTS TO THE INFUSION CENTER WILL BE RECOGNIZED ON A DONOR WALL
For more information regarding the Infusion Center and named gift opportunities please contact Cheryl Kimball at 603.515.2089 or ckimball@hugginshospital.org.
HUGGINS HOSPITAL INFUSION SERVICES HISTORY
2014
Infusion Services at Huggins Hospital started in our Medical-Surgical area
2016
Next, the service was delivered in the Huggins Hospital Intensive Care Unit
2020
Infusion Services at Huggins Hospital moved to a larger space within the hospital to accommodate growth
2022
Infusion significant increase in use and potential for offering oncology services created the need for a new state- of-the-art Infusion Center
WHAT IS INFUSION THERAPY?
Huggins Hospital's Infusion Services provides intravenous medications, administered by skilled, registered nurses, for many chronic illnesses and diseases. Some of these treatments can prevent worsening of certain conditions or provide palliative care. Other infusion therapy includes injections, IV hydration, implanted port maintenance and PICC line maintenance.
Infusion therapy can take thirty minutes, three hours or even all day. The new Infusion Center will be a purposefully designed place of comfort for all who need to use it, including the patient, the patient's family and friends, and the professionals who care for them. For more information about the types of care we provide in Infusion Services, you can visit our Infusion Serivces Page.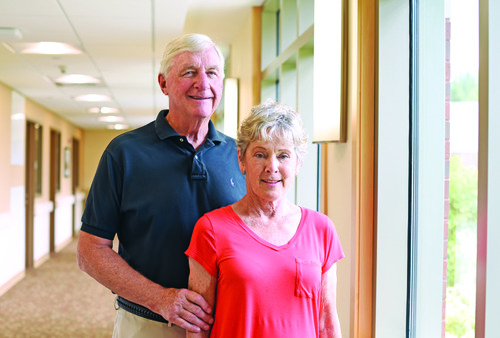 Michael and Linda Gallup have donated to Huggins Hospital's new Infusion Center after personal experience with the convenience of having infusion services in Wolfeboro.
"As an infusion patient at Huggins for the last five years, I have found the convenience and the caring staff to be outstanding. My doctors are in Boston, where I live half the year. Despite that, it is seamless to arrange my treatments here."
- LINDA GALLUP